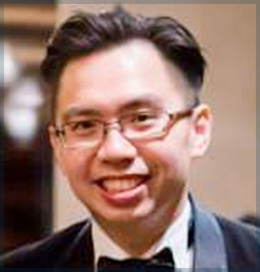 David (davidyeo@ntu.edu.sg) is a Research Fellow and Principal Instructor at the School of Chemical and Biomedical Engineering, Nanyang Technological University (Singapore). He is passionate about multi-disciplinary Engineering for Biomedicine. Specifically, these include micro/nano-technology for skin applications (i.e. abnormal scars); representative technology and expertise include:
Microneedles for Keloids/hypertrophic scars
Human tissue and rabbit models
Skin-penetrating Nanotechnology for diagnosis and gene regulation
Molecular probes with rapid detection kinetics
He also serves as an Editorial board member of the society for laboratory automation and screening (SLAS) Technology journal and contributes a quarterly 'Literature Highlights' column.
Representative publications
Abnormal Scar Identification with Spherical Nucleic Acids Technology, David C. Yeo, Christian Wiraja, Amy Paller, Chad Mirkin, Chenjie Xu, Nature Biomedical Engineering, 2018, 2, 227-238.
Near-Infrared Fluorescent Molecular Probe for Sensitive Imaging of Keloid, Qingqing Miao*, David Yeo*, Christian Wiraja, Xiaoyu Ning, Jianjian Zhang, Chenjie Xu, and Kanyi Pu, Angewandte Chemie International Edition, 2018, Jan 26; 57(5):1256-1260. *: equal contribution
Microneedle Physical Contact as a Therapeutic for Abnormal Scars, David C Yeo, Elizabeth R. Balmayor, Jan-Thorsten Schantz, Chenjie Xu, European Journal of Medical Research, 2017, 22: 28.
Peptide Delivery with Poly(ethylene glycol) Diacrylate Microneedles through Swelling Effect, Shiying Liu, David C Yeo, Christian Wiraja, Hong Liang Tey, Milan Mrksich, Chenjie Xu, Bioengineering & Translational Medicine, 2017, 2(3): 258-267.
Drug-eluting Microneedles for Self-Administered Treatment of Keloids, P. Xue*, D. C. L. Yeo*, Y. J. Chuah, H. L. Tey, Y. Kang, and C. Xu, Technology, 2014, 02, 144-152. *: equal contribution