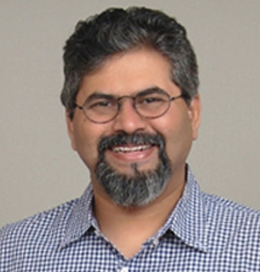 Dr. Gunjan is currently an Associate Professor in the Department of Biomedical Sciences at the Florida State University College of Medicine, where he splits his time as a research scientist and a medical educator. After finishing college in India, Dr. Gunjan moved to the United States to obtain his Ph.D. degree in biochemistry at the University of Mississippi Medical Center. He then moved to London, England, to carry out his post-doctoral research work in genetics and DNA repair at Cancer Research UK (formerly Imperial Cancer Research Fund, ICRF), the world's largest cancer research charity. He joined the Florida State University College of Medicine as an Assistant Professor in 2005 and was promoted to Associate Professor in 2013.
Dr. Gunjan is involved in teaching various graduate level courses at the medical school that draw upon his expertise in biochemistry, genetics, cell & molecular biology, as well as cancer biology. He serves as the director of the Integrated Clinical Science course that delivers much of the basic sciences curriculum for first year Physician Assistant students. Dr. Gunjan has over 28 years of research experience in the field of chromatin structure & function, and over 23 years in the area of DNA repair & genome stability. Students at all academic levels including high school students perform basic biomedical research in his laboratory using yeast, human cells, fruit flies and mice. The data generated through basic research is then used to develop and test novel treatments for diseases characterized by aberrant cell proliferation, such as 100% fatal childhood brain tumors and benign skin lesions called keloids. Additionally, Dr. Gunjan is developing methods to predict the response of keloid patients to steroid therapy. Based on his research, Dr. Gunjan has authored multiple publications and patent applications over the years, the most significant of which are listed below.
MOST SIGNIFICANT PUBLICATIONS:
Misteli, T., Gunjan, A., Hock, R., Bustin, M., and Brown, D. T. (2000). Dynamic binding of histone H1 to chromatin in living cells. Nature, 408: 877-881. (Highlighted in the 10-year anniversary commentary in Nature Reviews Molecular Cell Biology 11: 678-679.)
Gunjan, A., and Verreault, A. (2003). A Rad53 kinase-dependent surveillance mechanism that regulates histone protein levels in Saccharomyces cerevisiae. Cell, 115: 537-549. (Previewed in: Cell, 115: 508-510. Highlighted in: Nature Reviews Molecular Cell Biology, 5: 6.)
Singh, R.K., Miquel Kabbaj, M.-H., Paik, J., and Gunjan, A. (2009). Histone levels are regulated by phosphorylation and ubiquitylation dependent proteolysis. Nature Cell Biology, 11: 925-933. (Selected for Faculty of 1000 Biology: http://f1000.com/1345998#evaluations).
Singh, R.K., Liang, D., Reddy, G.U., Miquel Kabbaj, M.-H., Paik, J., and Gunjan, A. (2010). Excess histone levels mediate cytotoxicity via multiple mechanisms. Cell Cycle, 9: 4236-4244. (This paper generated two News & Views – Cell Cycle 9: 4283; Cell Cycle 9: 4611-4612)
Singh, R.K., and Gunjan, A. (2010). Epigenetic therapy: Targeting histones and their modifications in human disease. Future Medicinal Chemistry, 2: 543-548.
Hammack, C., Ogden, S. C., Madden, J., Medina, A., Xu, C., Phillips, E., Son, Y., Sherman, A., Giovinazzi, S., Didier, R., Gilbert, D., Song, H., Guoli, M., Wen, Z., Brinton, M., Gunjan, A., and Tang, H. (2019). Zika virus infection induces DNA damage response and S-phase arrest in human neural progenitor cells that enhances viral replication. Journal of Virology, 93 pii: e00638-19.
*Son, Y., *Phillips, E., Magrini, K., Rosenberg, L., Stefanovic, B., Wolfe, C., Shaath, T., Om, A., Cohen, G., and Gunjan, A. (2020). Treatment of keloids with a single dose of low energy superficial X-ray radiation to prevent recurrence after surgical excision: an in vitro and in vivo study. Journal of American Academy of Dermatology, 83:1304-1314. *Equal contribution. (Selected for the Dialogues in Dermatology podcast).
US PATENT APPLICATIONS:
(1.) Gunjan, A. Selective treatment of cancers having histone H3 mutations or aberrant levels of DNA or histone methylation, acetylation or defects in homologous recombination. (Patent application number – 63/032,653).
(2.) Gunjan, A., Son, Y., & Phillips, E. (2020). Methods for predicting steroid responsiveness. (Patent application number – 62/991,423).
(3.) Gunjan, A. & Son, Y. (2022). Molecular biomarkers for predicting patient response to steroid therapy. (Patent application number – 63/330,965).